Back
Servo motors and robots are transforming additive applications. Learn the latest tips and applications when implementing robotic automation and advanced motion control for additive and subtractive manufacturing, as well as what's next: think hybrid additive/subtractive methods.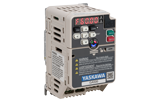 GA500 poised to take on today's challenges of sustainability, flexibility and ease of use.
Sigma Trac II linear motor stages provide high performance turnkey linear motor solution
As manufacturing companies strive for higher Overall Equipment Effectiveness (OEE), the emerging trend driven by the IIoT technologies to collect and utilize useful feedback from a machine, or from an entire manufacturing line, can be critical to unlocking the potential of the equipment.
Node: lr2