May 2020
Intuitive Software Tool for Advanced Manufacturing
April 2020
Many states have issued shelter-in-place orders. In all of the shelter-in-place rules, there is an exception for "essential services", Yaskawa America is one of those businesses. Effective March 21st, we will continue operations as an Essential Supplier throughout the duration of the orders.
March 2020
Yaskawa America Inc. recognizes that the rapidly changing coronavirus (COVID-19) pandemic is a source of uncertainty and concern for all of us. We place the highest priority on the health and safety of our employees, customers, business partners, and the community.
February 2020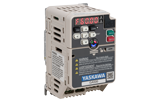 GA500 poised to take on today's challenges of sustainability, flexibility and ease of use.
GA800 Variable Speed Drive was selected as the honorable mention of the 2020 Control Engineering "Engineers' Choice Award".
Last fall Drives & Control Solutions had the opportunity to tour Yaskawa America's primary low voltage drive production facility. The facility is located in Buffalo Grove, IL, just outside of Chicago. Hosting both an assembly facility and roughly 100,000 sq/ft warehouse and distribution centre, the site is quite impressive, particularly considering the level of efficiency employed.

January 2020
With the current state of the internet and the interconnectivity of devices and equipment, it is in the best interest of any company that wants to optimize the productivity of their associates tasked with technical tasks to take a look at the eLearning available. eLearning offers a wonderful ROI due to its low cost, ease of access, skill-based objectives, and ability to customize to each viewer.

Node: lr2