July 2014
Enhanced functionality for a better user experience.
June 2014
Case study: Automated Industrial Machinery (AIM Inc.) moved from an analog interface to servo amplifiers to a digital motion control network to reduce wiring and simplify programming. It used IEC 61131-3 compliant software and industry-standard PLCOpen function blocks. See examples.
May 2014
The International Association for Continuing Education and Training (IACET) has awarded reaccreditation status to Yaskawa America Inc. Drives & Motion Division.
April 2014
Sponsored by Yaskawa and presented by Brian Beal, President, Highland Controls LLC
The traditional approach for optimizing a packaging line consists of using a PLC-based model from a single-source automation supplier, an approach focused heavily on maintenance in an attempt to limit downtime. But there's an alternative approach, one based on a motion-centric solution with a focus on productive outcome
February 2014
Advanced VFD technology delivers cost and space savings by providing protective features and minimal programming.
January 2014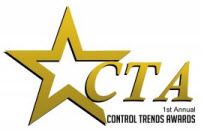 Yaskawa was nominated for 2013 Control Trends Best Variable Frequency Drive of the Year along with Honeywell Smart VFD, ABB, Danfoss, Johnson Controls, Yaskawa Z1000, Teco Westinghouse, and TAC Schneider Electric Square D.
December 2013
When motion network communications contain errors or create alarms, consider four quick-fix alternatives before redesigning a control panel.
November 2013
In a competitive marketplace, details help differentiate one product from another. A thoughtful feature or a more rugged design can make all the difference. Consumers who buy based solely on price often end up disappointed.
Yaskawa Signs First U.S. Medium Voltage Drive Distributor
Node: lr1