Back
The traditional approach for optimizing a packaging line consists of using a PLC-based model from a single-source automation supplier, an approach focused heavily on maintenance in an attempt to limit downtime. But there's an alternative approach, one based on a motion-centric solution with a focus on productive outcome
Advanced VFD technology delivers cost and space savings by providing protective features and minimal programming.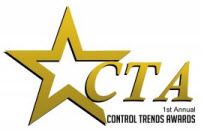 Yaskawa was nominated for 2013 Control Trends Best Variable Frequency Drive of the Year along with Honeywell Smart VFD, ABB, Danfoss, Johnson Controls, Yaskawa Z1000, Teco Westinghouse, and TAC Schneider Electric Square D.
When motion network communications contain errors or create alarms, consider four quick-fix alternatives before redesigning a control panel.
In a competitive marketplace, details help differentiate one product from another. A thoughtful feature or a more rugged design can make all the difference. Consumers who buy based solely on price often end up disappointed.
Yaskawa Signs First U.S. Medium Voltage Drive Distributor
TSA Manufacturing in Omaha, Neb., provides steel products and services to the construction, precast concrete, and structural steel markets. One machine—a thread roller that makes long steel threaded rods up to 1 in. diameter used in bridge construction—required extensive maintenance and replacement of worn-out parts, and was out of service for repairs too often.
Most modern motion control systems employ Ethernet-based networks to transmit data among various electrical and electronic components.
Semiconductor processing equipment is a notoriously demanding application for motion control engineers. Extreme precision, reliability and smoothness are absolute requirements. At the same time, space is at a premium.

MV1000 drives combine compact modular design, high efficiency, low harmonics, and industry leading MTBF into a medium voltage drive solution that is compatible with Yaskawa's popular 1000 series low voltage AC drive products.
Node: lr2