Back
Make sure your packaging line is ready for what comes next
Programming variable frequency drives (VFDs) to fit most industrial applications require only the most basic settings to operate the motor. Understand these 5 VFD parameter changes to optimize VFD programming to fit most motor-drive applications.
Receives prestigious NorthFace ScoreBoard Award for Excellence in Customer Service for 8th Consecutive Year
Voting is now open for Design World's 2020 Leadership in Engineering award!
Vote for Yaskawa for Automation World's 2021 "Leadership in Automation" annual award.
Intuitive Software Tool for Advanced Manufacturing
Many states have issued shelter-in-place orders. In all of the shelter-in-place rules, there is an exception for "essential services", Yaskawa America is one of those businesses. Effective March 21st, we will continue operations as an Essential Supplier throughout the duration of the orders.
Yaskawa America Inc. recognizes that the rapidly changing coronavirus (COVID-19) pandemic is a source of uncertainty and concern for all of us. We place the highest priority on the health and safety of our employees, customers, business partners, and the community.
Yaskawa is pleased to announce for the 5th consecutive year, Derwent from Clarivate Analytics has named Yaskawa as a Top 100 Global Innovator!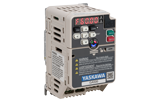 GA500 poised to take on today's challenges of sustainability, flexibility and ease of use.
Node: lr1