Back
Voting is now open for Design World's 2020 Leadership in Engineering award!
Vote for Yaskawa for Automation World's 2021 "Leadership in Automation" annual award.
Intuitive Software Tool for Advanced Manufacturing
Many states have issued shelter-in-place orders. In all of the shelter-in-place rules, there is an exception for "essential services", Yaskawa America is one of those businesses. Effective March 21st, we will continue operations as an Essential Supplier throughout the duration of the orders.
Yaskawa America Inc. recognizes that the rapidly changing coronavirus (COVID-19) pandemic is a source of uncertainty and concern for all of us. We place the highest priority on the health and safety of our employees, customers, business partners, and the community.
Yaskawa is pleased to announce for the 5th consecutive year, Derwent from Clarivate Analytics has named Yaskawa as a Top 100 Global Innovator!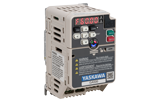 GA500 poised to take on today's challenges of sustainability, flexibility and ease of use.
In recognition of customer experience excellence, this is the 5th year in a row that Yaskawa America has been honored with this award.
GA800 Variable Speed Drive was selected as the honorable mention of the 2020 Control Engineering "Engineers' Choice Award".
Last fall Drives & Control Solutions had the opportunity to tour Yaskawa America's primary low voltage drive production facility. The facility is located in Buffalo Grove, IL, just outside of Chicago. Hosting both an assembly facility and roughly 100,000 sq/ft warehouse and distribution centre, the site is quite impressive, particularly considering the level of efficiency employed.

Node: lr1