Back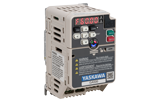 GA500 poised to take on today's challenges of sustainability, flexibility and ease of use.
GA800 Variable Speed Drive was selected as the honorable mention of the 2020 Control Engineering "Engineers' Choice Award".
This Design World video features Yaskawa's new GA800 AC drive that is designed to control traditional and emerging motor technologies through 600 HP.
New hardware and software products boost performance, enhance versatility in motion control
New SGM7F opens the door to more backlash-free automation applications
This article published by TechBriefs and written by Michael Miller & Jerry Tyson, Regional Motion Engineers, Yaskawa America, Inc., explains how there is always a need to increase production in automation applications. Sometimes achieving improvements requires breaking the process down to its fundamental basics.
Yaskawa introduces Sigma-7Siec, servo amplifier and single-axis controller in one.
"New" Technology Turning Heads — and Profits.

Yaskawa's SGD7 Sigma-7 SERVOPACKS has been selected as the winner in the "Motion Control - Servo Drives" category in the 2017 Engineers' Choice Awards hosted by Control Engineering magazine!
Yaskawa's booth E-4154 at IMTS this year will feature two customer machines featuring first-hand demonstrations of Yaskawa's new Sigma-7 series products and the latest MP3300iec machine controller.
Node: lr1