Back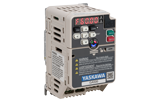 GA500 poised to take on today's challenges of sustainability, flexibility and ease of use.
GA800 Variable Speed Drive was selected as the honorable mention of the 2020 Control Engineering "Engineers' Choice Award".
This Design World video features Yaskawa's new GA800 AC drive that is designed to control traditional and emerging motor technologies through 600 HP.
New hardware and software products boost performance, enhance versatility in motion control
New SGM7F opens the door to more backlash-free automation applications
Node: lr2