Stop by to see new variations of the HV600 or to learn about the latest developments for DriveWizard® Mobile. HV600 Drive | DriveWizard® Mobile
Be in the Know for Show Info!
Dates and Times:
Mon, Jan 31: 10am - 6pm
Tues, Feb 1: 10am - 6pm
Wed, Feb 2: 10am - 4pm
Location:
Las Vegas Convention Center
Las Vegas, NV
Visit Yaskawa America Inc.
Booth # C-1358
Free Registration!
BACnet 101: From an HVAC Perspective
Learn about the basic building blocks and design philosophy that makes BACnet so popular and how it can help you now and in the future as the B-IoT continues to grow.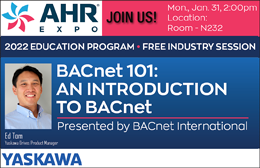 Day: Mon., January 31, 2022
Time: 2:00 - 3:00 PM
Location: N232
Hosting Organization: BACnet Intl.
Presenter: Edward Tom, Yaskawa Product Manager
View Details
Using VFDs to Stage Booster Pumps
VFDs can now natively communicate with each other to create a simple, powerful, and reliable booster pump control. These systems are inherently reliable and offer an incredible array of features.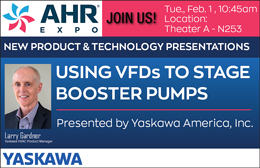 Day: Tues., February 1, 2022
Time: 10:45 - 11:05 AM
Room: Theater A - N253
Presenter: Larry Gardner, Yaskawa Product Manager
View Details
Yaskawa's HVAC Segment Manager, Don Cameron, has a decade plus of customer facing experience that puts him in a prime position to propel Yaskawa's HVAC business into the future.
Read Don's Story