Stop by to see new variations of the HV600 or to learn about the latest developments for DriveWizard® Mobile. HV600 Drive | DriveWizard® Mobile
Be in the Know for Show Info!
Dates and Times:
Mon, Jan 31: 10am - 6pm PST
Tues, Feb 1: 10am - 6pm PST
Wed, Feb 2: 10am - 4pm PST
Location:
Las Vegas Convention Center
Las Vegas, NV
Visit Yaskawa America Inc.
Booth # C1358
Registration
BACnet 101: An Introduction to BACnet
Learn about the basic building blocks and design philosophy that makes BACnet so popular and how it can help you now and in the future as the B-IoT continues to grow.
Day: Mon., January 31, 2022
Time: 2:00 - 3:00 PM PST
Location: N235/237
Hosting Organization: BACnet Intl.
Presenter: Edward Tom, Yaskawa Product Manager
Watch Presentation
Using VFDs to Stage Booster Pumps
VFDs can now natively communicate with each other to create a simple, powerful, and reliable booster pump control. These systems are inherently reliable and offer an incredible array of features.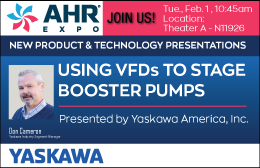 Day: Tues., February 1, 2022
Time: 10:45 - 11:05 AM PST
Room: Theater A - N11926
Presenter: Don Cameron, Yaskawa HVAC Segment Manager
Watch Presentation
Yaskawa's HVAC Segment Manager, Don Cameron, has a decade plus of customer facing experience that puts him in a prime position to propel Yaskawa's HVAC business into the future.
Read Don's Story