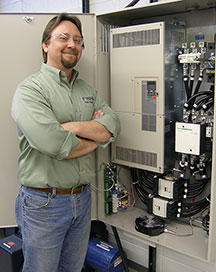 Yaskawa's Training Café Express is a web-based program that allows a student to attend class anywhere. These online, instructor-led classes provide training on Yaskawa Drives and Motion products. To view the upcoming Café Express webinar schedule, login to yaskawa.com.
On a Mobile Device?
Get your free GoToWebinar app for Android or iOS.
Can't Make the Training Cafe?
Have another appointment on the day of the webinar and won't be able to attend? Not to worry! Most webinars are available on YouTube and/or Yaskawa's eLearning Curriculum page (login first).


Continue Your Technical Education with eLearning!
eLearning Modules (eLMs) from Yaskawa are user-friendly, computer-based training lessons that are effective, time efficient, instruction that can be performed anytime or anywhere there is a computer or mobile device. This is a perfect way to get the training you need in the least amount of time.
Self-guided Video Training is a combination of an eLM that guides the lesson, plus the opportunity for the student to connect to a real Yaskawa product demonstration unit via the internet. The unit is located at the Yaskawa America Headquarters training facility in Waukegan, IL.
Node: lr2