HV600 Drives Application Programming - LIVE ONLINE
Back
Class Name/Number:
HV600 Drives Application Programming - LIVE ONLINE / TRM010-HV600Drive-ApplicationsWEB
View Related Curriculum
Class Cost:
$460
Overview: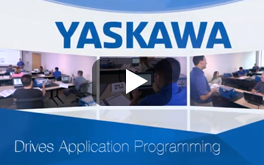 Duration: 3 Days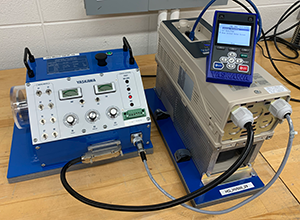 Class Topics:
The HV600 Drive Application Programming class is designed for technicians and engineers that need to know how to incorporate a HV600 Drive into an application. Students will learn to adjust parameters in the drive using both the keypad and DriveWizardHVAC, to perform function demonstrations. Basic and advanced drive parameters will be discussed as well as drive monitors. A variety of hands on exercises in class will help the student thoroughly learn what the parameters functions do and how to set them up. And throughout the class, the student will practice what they've learned by successfully completing application stories.
Class topics include but are not limited to:
Keypad Operation
Real-Time Clock
Auto-Tuning
I/O
Dynamic Audible Noise Control
DriveWizard HVAC
Speed Search
PI
Scheduled Run/Stop
Monitoring

Application Programming

Supply Fan
Supply Fan w/PI
Cooling Tower Fan
Fan Array
Coolant Pump using the enhanced pumping parameters

Energy Savings Predictor Software
Class Materials:
Students will receive a copy of the class training manual as well as selected product user and instruction manuals in paper and electronic format.
You'll need to install a copy of DriveWizard HVAC on your laptop before the class begins.
DriveWizard HVAC eLearning Modules
You'll also need to install a copy of DriveWizard Mobile on your phone and set up a Yaskawa Cloud login before the class begins.
DriveWizard Mobile eLearning Modules
Connecting to the Training Class:
Each student will need a laptop with a camera and microphone, an internet connection, 120v for the product demo and a quiet place to learn. Each morning you'll be connecting into our go-to-webinar system to see the class presentation and to be able to communicate with the instructor. We'll contact you before the class with easy to follow, step-by-step instructions on how to connect to the go-to-webinar system.


Demo Units:
We will ship a product demo and all of the class materials directly to each student before the class begins. We will also arrange for a demo pick-up after the class ends.

Prerequisites:
At least some prior experience programming any of Yaskawa's Drives.You should also possess a basic knowledge of motors and inverters.
Taking the Installation and Startup for the HV600 is highly recommended to receive a well rounded training experience.
It is highly recommended that you review the VFD Basics eLearning Module (eLM.VFDB.01) and the Motor Basics eLearning Module (eLM.MTR.02.MotorBasics) before attending this class.
If you're not sure if this class is right for you, call and speak with one of Yaskawa's Product Training Engineers at 1-800-YASKAWA (927-5292) dial 41.
Class Format:
The class consists of approximately 60% lecture and 40% programming exercises.
Continuing Education Units:
Continuing Education Units will be awarded to those students that attend this training class in its entirety and pass the certification test with a score of 85% or better. Yaskawa does not provide partial CEU credits for less than 100% attendance. As an IACET Accredited Provider, Yaskawa America Inc. offers CEUs for its programs that qualify under the ANSI/IACET Standard. Yaskawa America, Inc. is accredited by IACET to offer 1.4 CEUs for this program.
Class Cost:
Contact Yaskawa for pricing at 1-800-YASKAWA (927-5292) dial 41. The fee that you will be charged includes all training documents, a light snack each morning, and a lunch each day. Costs associated with travel, lodging, and evening meals are not included and are the student's responsibility.
To Enroll:
To enroll in any scheduled class, go to Request Training or call 1-800-YASKAWA (927-5292), dial 41. Class sizes are limited, so call early to reserve your seat.
Cancellation/Refund Policy:
Yaskawa reserves the right to cancel a scheduled class at anytime due to low student enrollment. In this situation the student will be asked to reschedule or the tuition cost will be refunded.

Yaskawa is not liable for any charges incurred by the customer (i.e.; airline, hotel, and rental car) due to cancellation.

A student may cancel their enrollment more than one week before the start of the class with no penalty. A student wishing to cancel their enrollment within one week of the class start date will be subject to these charges:
The cancellation fee for end users, if canceling within one week for a scheduled factory class is 50% of the total class tuition fee.
The cancellation fee for Drives and Motion Distributors, if canceling within one week of a scheduled factory training class is 100% of the total tuition fee.
The cancellation fee for end users and distributors, if canceling an on-site class within three weeks of a scheduled class date is 100% of the class tuition and logistical fees.
Node: lr2