MPiec Intermediate Application Programming 2.0 - LIVE ONLINE
Back
Overview: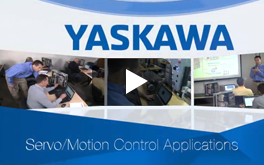 Duration: 4 Days
Summary:
This training class is designed for those who have passed the certification test for the following Self-Guided Video Training courses.
MotionWorks IEC Basics - TRM011-MotionWorksIEC-Basic
PLCopen Basics - TRM010-PLCopen-Basic
Web UI - TRM010-MPiec-WebUI
Hardware Configuration - TRM010-MotionWorksIEC-HardwareConfig

Class Topics:
The user will configure and program the MP3300iec controller using Function Block, Ladder, and Structured Text programming. MotionWorks IEC - Pro Version 3 software will be used. The student will integrate several devices to build a complete application, starting with Yaskawa's 4-axis template project.
Class topics include but are not limited to:
Product Overview
4-axis Template
HMI (Modbus/TCP)
Manual Mode
Production Mode ST Sequence
Homing
VIPA SLIO (Ethernet/IP)
Machine IO
Modbus/TCP Remote IO
Ethernet/IP Adapter to upper-level PLC
Ethernet/IP Scanner to a simulated vision system
Electronic Cam
Controller Hardware Operation
Toolbox Library Overview
Class Materials:
Students will receive a copy of the class training manual, as well as selected product user and instruction materials in electronic format.
Connecting to the Training Class:
Each student will need a laptop with a camera and microphone, an internet connection and a quiet place to learn. Each morning you'll be connecting into a demo/laptop/camera package that is located at the Yaskawa America HQ facility in Waukegan, IL via our Splashtop system. You'll also be connecting into our go-to-webinar system to see the class presentation and to be able to communicate with the instructor. We'll contact you before the class with easy to follow, step-by-step instructions on how to connect to the Splashtop and the go-to-webinar systems.
Prerequisites:
Yaskawa maintains a continually growing eLearning Curriculum. It's online and it's free. Navigate to the product page, or search YouTube for training videos applicable to this product. Subscribe to Yaskawa's YouTube Channel for the latest training videos. The eLearning Curriculum is a valuable resource both before and after attending this training class.
If you're not sure if this class is right for you, please email training@yaskawa.com.
Class Format:
The class consists of approximately 40% lecture and 60% hands-on exercises.
Class Cost:
Contact training@yaskawa.com for pricing. The fee that you will be charged includes all training documents, a light snack each morning and lunch each day. Costs associated with travel, lodging, and evening meals are not included and are the student's responsibility.
Continuing Education Units:
Continuing Education Units will be awarded to those students that attend this training class in its entirety and pass the certification test with a score of 90% or better. Yaskawa does not provide partial CEU credits for less than 100% attendance. As an IACET Accredited Provider, Yaskawa America Inc. offers CEUs for its programs that qualify under the ANSI/IACET Standard. Yaskawa America, Inc. is accredited by IACET to offer 2.1 CEUs for this program.
To Enroll:
To enroll in any scheduled class, go to Request Training or call 1-800-YASKAWA (927-5292), dial 41. Class sizes are limited, so call early to reserve your seat.
Cancellation/Refund Policy:
Yaskawa reserves the right to cancel a scheduled class at any time due to low student enrollment. In this situation the student will be asked to reschedule or the tuition cost will be refunded. Yaskawa is not liable for any charges incurred by the customer (i.e.; airline, hotel, and rental car) due to cancellation.
A student may cancel their enrollment more than one week before the start of the class with no penalty. A student wishing to cancel their enrollment within one week of the class start date will be subject to these charges:
The cancellation fee for end users, if canceling within one week for a scheduled factory class is 50% of the total class tuition fee.
The cancellation fee for Drives and Motion Distributors, if canceling within one week of a scheduled factory training class is 100% of the total tuition fee.
The cancellation fee for end users and distributors, if canceling an on-site class within three weeks of a scheduled class date is 50% of the class tuition and logistical fees.
Node: lr1