MPiec and Sigma-5 Application Programming
Back
Class Name/Number:
MPiec and Sigma-5 Application Programming / TRM010-MPiecSig5-AppProg
View Related Curriculum
Class Cost:
$1195
Overview: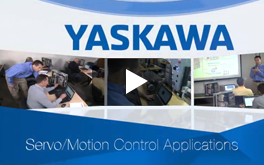 Duration: 3.75 days
Summary:
This live training class is designed for those who have passed the certification tests for both MotionWorks IEC Basics and PLCopen Basics.

Class Topics:
MPiec and Sigma-5 Application Programming is the third in a series of classes on the MPiec controllers. It is designed for technicians and engineers who are already comfortable with IEC 61131-3 and PLCopen within the MotionWorks IEC software environment.
The user will configure and program the MP2300Siec controller using Function Block, Ladder, and Structured Text programming. MotionWorks IEC - Pro Version 3 software, will be used. This class does NOT focus on programming techniques, but rather on how the different controller features work individually. Sigma-5 troubleshooting, configuration, and tuning will be explored using Yaskawa's SigmaWin+ software. After completing this class, the student may refer to the SFC eLearning Video to learn the Sequential Function Chart programming language.
Class topics include but are not limited to:
Web Server Interface

System restore from Project Archive
Maintenance, analysis, troubleshooting

Hardware Configuration

New Project Configuration
Servo Parameter Configuration
ModBus/TCP and Ethernet I/P Configuration

Electronic Cam Programming Introduction

Cam Editor
Cam Toolbox function blocks: CamGenerator and CamBlend

Sigma-5 Product Line Overview
SigmaWin+

Operation Overview
Setup Wizard
Program Jog
Trace

Sigma-5 Tuning with MPiec Controller Command

Controller Feed-forward
Mechatrolink Subinterpolation
Tuning-Less
Moment of Inertia Ratio
Advanced Auto Tuning
Custom Tuning
Model Following Control
Vibration Suppression
Anti Resonance
Mechanical Analysis
Notch Filter
MPiec Sigma-5 Controller/Servo Tuning Lab
Tuning for fast position settling time vs low position error
Class Materials:
Students will receive a copy of the class training manual, as well as selected product user and instruction materials in paper and/or electronic format.
COVID Policies During Training Classes:
Yaskawa America, Technical Training Services follows the Center for Disease Control's (CDC's) recommendation of social distancing at least six feet during factory training classes held at the Yaskawa America facility in Waukegan, IL. To meet these recommendations, we've physically rearranged the classrooms and limited the number of students enrolled in the class.
Students and instructors must adhere to Yaskawa's safety protocol for mask or face shield utilization in all Yaskawa training facilities, which follow local, state or federal mask orders or revised CDC guidelines. Students should bring with them and may wear during the class, a facemask or face shield approved by the CDC for COVID-19 face protection based on Yaskawa's safety protocol level at the time of their scheduled class.
Safety:
Yaskawa TTS provides a number of training classes for its customers that require the use of low level voltages (120vac, 208vac and 460vac). To ensure a level of safety for the student while working with training class equipment using these voltages, TTS follows an Arch Flash Policy that is consistent with NFPA 70E.
Each student attending class must wear non-melting, untreated, natural fiber long pants.
Prerequisites:
Prerequisite #1: IEC 61131-3 Basic Training
All students must pass the certification test for IEC 61131-3 Basics with MotionWorks IEC (TRM011 MotionWorks IEC-Basic). The video tutorial series is available at any time and takes 6-12 hours to complete. After completing the video training, the certification test may be requested by email to training@yaskawa.com.
Prerequisite #2: PLCopen Basic Training
All students must pass the certification test for PLCopen Basics with MPiec Controllers (TRM010-PLCopen-Basic). The video tutorial series is available at any time and takes 6-12 hours to complete. After completing the video training, the certification test may be requested by email to training@yaskawa.com.
Yaskawa maintains a continually growing eLearning Curriculum. It's online and it's free. Navigate to the product page or search YouTube for training videos applicable to this product. Subscribe to Yaskawa's YouTube Channel for the latest training videos. The eLearning Curriculum is a valuable resource both before and after attending this training class.
Recommendations:

If you're not sure if this class is right for you, please email training@yaskawa.com.
Class Format:
The class consists of approximately 40% lecture and 60% hands-on exercises.
Class Cost:
Contact training@yaskawa.com for pricing. The fee that you will be charged includes all training documents, a light snack each morning and a lunch each day. Costs associated with travel, lodging, and evening meals are not included and are the student's responsibility.
Continuing Education Units:
Continuing Education Units will be awarded to those students that attend this training class in its entirety and pass the certification test with a score of 90% or better. Yaskawa does not provide partial CEU credits for less than 100% attendance. The test may be requested by email to training@yaskawa.com. As an IACET Accredited Provider, Yaskawa America Inc. offers CEUs for its programs that qualify under the ANSI/IACET Standard. Yaskawa America, Inc. is accredited by IACET to offer 2.6 CEUs for this program.
To Enroll:
To enroll in any scheduled class, go to Request Training or call 1-800-YASKAWA (927-5292), dial 41. Class sizes are limited, so call early to reserve your seat.
Cancellation Policy:
Yaskawa reserves the right to cancel a scheduled class at any time due to low student enrollment. In this situation the student will be asked to reschedule or the tuition cost will be refunded. Yaskawa is not liable for any charges incurred by the customer (i.e.; airline, hotel, and rental car) due to cancellation.
A student may cancel their enrollment more than one week before the start of the class with no penalty. A student wishing to cancel their enrollment within one week of the class start date will be subject to these charges:
The cancellation fee for end users, if canceling within one week for a scheduled factory class is 50% of the total class tuition fee.
The cancellation fee for Drives and Motion Distributors, if canceling within one week of a scheduled factory training class is 100% of the total tuition fee.
The cancellation fee for end users and distributors, if canceling an on-site class within three weeks of a scheduled class date is 100% of the class tuition and logistical fees.
Node: lr1