Back
Overview: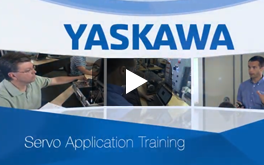 Duration: 5 Days
Class Topics:
The Sigma-5 Applications class is designed to give technicians and engineers an in-depth look into the functions and capability of the Sigma-5 amplifier. Students will learn how to set up and configure the amplifier for a variety of application types using desktop demos. This class consists of three major units:
Sigma-5 Servo Basics introduces the fundamental servo and motion control concepts common to many modern servo systems, put into practice within the context of Sigma-5
Sigma-5 for Sigma II Users gives users an in-depth look into the functions and capability of the Sigma-5 amplifier. Students will learn how to use the new technical features of Sigma-5, as well as how to configure the amplifier for a variety of application types using desktop demos, and will tune several mechanical systems. An emphasis is placed on hands-on exercises, which comprise about half of the class.
Sigma-5 Hands-On makes the student responsible for all aspects of setting up a system, including installation, wiring, parameter configuration, integration to external components, and troubleshooting.
Class topics include but are not limited to:
Sigma-5 Servo Basics

Motion Control System Overview
Servomotor Technology
Amplifier Technology
Servo System Quick-Start
Servo Amplifier Control Modes
SigmaWin+ Parameter Editing
Installation
Amplifier Jog
Controller Setup
Machine Jog

Sigma-5 for Sigma II Users

Product Overview
SigmaWin+ Software Improvements (including Setup Wizard)
Torque, Speed, and Position control applications
Advanced Functions (including Safety Function, SEMI F47 Standard, Test Without Motor, Overload Detection)
Tuning Functions (including Program Jog, Tuning-Less, Advanced Auto-Tuning, and One-Parameter Tuning)
Application tuning and performance measurement (including SigmaWin + Trace, Mechanical Analysis, Vibration Suppression)

Sigma-5 Hands-on

Lab overview
External component identification and specifications
Power circuit diagram
I/O circuit digram
Installation, startup, troubleshooting
Class Materials:
Students will receive a copy of the class training manual as well as selected product user and instruction manuals in paper and/or electronic format.
COVID Policies During Training Classes:
Yaskawa America, Technical Training Services follows the Center for Disease Control's (CDC's) recommendation of social distancing at least six feet during factory training classes held at the Yaskawa America facility in Waukegan, IL. To meet these recommendations, we've physically rearranged the classrooms and limited the number of students enrolled in the class.
Students and instructors must adhere to Yaskawa's safety protocol for mask or face shield utilization in all Yaskawa training facilities, which follow local, state or federal mask orders or revised CDC guidelines. Students should bring with them and may wear during the class, a facemask or face shield approved by the CDC for COVID-19 face protection based on Yaskawa's safety protocol level at the time of their scheduled class.
Safety:
Yaskawa TTS provides a number of training classes for its customers that require the use of low level voltages (120vac, 208vac and 460vac). To ensure a level of safety for the student while working with training class equipment using these voltages, TTS follows an Arc Flash Policy that is consistent with NFPA 70E.
Each student attending class must wear non-melting, untreated, natural fiber long pants.
Prerequisites:
Because this is a technical class, a technical degree and/or several years of motion control experience are recommended.
If you're not sure if this class is right for you, contact Technical Training Services at 1-800-YASKAWA (927-5292) dial 41 or email training@yaskawa.com.
Class Format:
Students with a high degree of expertise and experience with installation, startup, and troubleshooting tend to finish this class 1-2 hours early. The class consists of approximately 50% lecture and 50% hands-on exercises.
Continuing Education Units:
Continuing Education Units will be awarded to those students that attend this training class in its entirety and pass the certification test with a score of 85% or better. Yaskawa does not provide partial CEU credits for less than 100% attendance. As an IACET Accredited Provider, Yaskawa America Inc. offers CEUs for its programs that qualify under the ANSI/IACET Standard. Yaskawa America, Inc. is accredited by IACET to offer 3.3 CEUs for this program.
Class Cost:
Contact Yaskawa for pricing at 1-800-YASKAWA (927-5292) dial 41. The fee that you will be charged includes all training documents, a light snack each morning, and a lunch each day. Costs associated with travel, lodging, and evening meals are not included and are the student's responsibility.
To Enroll:
To enroll in any scheduled class, go to Request Training or call 1-800-YASKAWA (927-5292), dial 41. Class sizes are limited, so call early to reserve your seat.
Cancellation/Refund Policy:
Yaskawa reserves the right to cancel a scheduled class at anytime due to low student enrollment. In this situation the student will be asked to reschedule or the tuition cost will be refunded. Yaskawa is not liable for any charges incurred by the customer (i.e.; airline, hotel, and rental car) due to cancellation.

A student may cancel their enrollment more than one week before the start of the class with no penalty. A student wishing to cancel their enrollment within one week of the class start date will be subject to these charges:
The cancellation fee for end users, if canceling within one week for a scheduled factory class is 50% of the total class tuition fee.
The cancellation fee for Drives and Motion Distributors, if canceling within one week of a scheduled factory training class is 100% of the total tuition fee.
The cancellation fee for end users and distributors, if canceling an on-site class within three weeks of a scheduled class date is 100% of the class tuition and logistical fees.
Node: lr1