Sigma-7 Servo Tuning Lab - LIVE ONLINE
Back
Class Name/Number:
Sigma-7 Servo Tuning Lab - LIVE ONLINE / TRM020-Sigma7-TuningLabWEB
View Related Curriculum
Class Cost:
$245
Overview: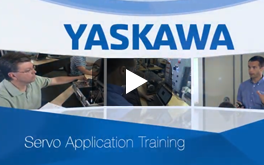 Duration: 0.75 Days
Summary:
This training class is designed for those who have passed the certification test for the following Self-Guided Video Training courses: Sigma-7 Servo Tuning (TRM010-Sigma7-Tuning-selfguided).
Class Topics:
The Sigma-7 Servo Tuning Lab is designed to give technicians and engineers hands-on experience tuning the Sigma-7 servo on a variety of mechanical systems. Yaskawa's SigmaWin+ Ver. 7 software is used.
Mechanical systems available for tuning include, but are not limited to:
- Belt Acturator
- Ball Screw Actuator
- Linear Motor with Vibration
- Rotary Drive with Resonance
Tuning demonstrations for these systems can be viewed on YouTube or download (link coming soon!).
Class Materials:
Students will receive a copy of the class training manual, as well as selected product user and instruction materials in paper and/or electronic format.
Connecting to the Training Class:
Each student will need a laptop with a camera and microphone, an internet connection and a quiet place to learn. Each morning you'll be connecting into a demo/laptop/camera package that is located at the Yaskawa America HQ facility in Waukegan, IL via our Splashtop system. You'll also be connecting into our go-to-webinar system to see the class presentation and to be able to communicate with the instructor. We'll contact you before the class with easy to follow, step-by-step instructions on how to connect to the Splashtop and the go-to-webinar systems.
Prerequisites:
Sigma-7 Servo Tuning (TRM010-Sigma7-Tuning-selfguided). All students must pass the certification test for the self-guided Sigma-7 Servo Tuning class. The video tutorial series is available at any time and takes 5-15 hours to complete.

If you're not sure if this class is right for you, please email training@yaskawa.com.
Class Format:
The class consists of approximately 10% lecture and 90% hands-on exercises.
Class Cost:
Contact training@yaskawa.com for pricing. The fee that you will be charged includes all training documents. Costs associated with travel, lodging, and evening meals are not included and are the student's responsibility.
Continuing Education Units:
Continuing Education Units will be awarded to those students that attend this training class in its entirety and pass the certification test with a score of 90% or better. Yaskawa does not provide partial CEU credits for less than 100% attendance. The test may be requested by email to training@yaskawa.com. As an IACET Accredited Provider, Yaskawa America Inc. offers CEUs for its programs that qualify under the ANSI/IACET Standard. Yaskawa America, Inc. is accredited by IACET to offer 0.5 CEUs for this program.
To Enroll:
To enroll in any scheduled class, go to Request Training or call 1-800-YASKAWA (927-5292), dial 41. Class sizes are limited, so call early to reserve your seat.
Cancellation/Refund Policy:
Yaskawa reserves the right to cancel a scheduled class at any time due to low student enrollment. In this situation the student will be asked to reschedule or the tuition cost will be refunded. Yaskawa is not liable for any charges incurred by the customer (i.e.; airline, hotel, and rental car) due to cancellation.
A student may cancel their enrollment more than one week before the start of the class with no penalty. A student wishing to cancel their enrollment within one week of the class start date will be subject to these charges:
The cancellation fee for end users, if canceling within one week for a scheduled factory class is 50% of the total class tuition fee.
The cancellation fee for Drives and Motion Distributors, if canceling within one week of a scheduled factory training class is 100% of the total tuition fee.
The cancellation fee for end users and distributors, if canceling an on-site class within three weeks of a scheduled class date is 50% of the class tuition and logistical fees.
Node: lr1