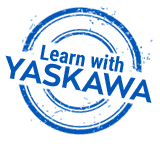 "Learn with Yaskawa" is a learning management system for the delivery of many types of Yaskawa product training programs and is 100% focused on your product training needs.
Highlights:
See a variety of offerings in the catalog, including eLearning modules (eLM), self-guided video training lessons, and factory training classes held in-person and live online.
Watch an eLM and take the certification test directly on the site.
Enroll in factory-level classes with only a few steps.
Find training classes you've attended, as well as upcoming sessions you're enrolled in on your dashboard.
Training Catalog
The Yaskawa training catalog holds full details for training classes both scheduled and not scheduled. Choose a class that interests you, review the description, select a session, register and pay the tuition fee using a credit card. It's that easy!
In-Person Classes
Held at the Yaskawa America, Inc. Headquarters (HQ) training facility in Waukegan, IL, in-person class size is limited to ensure the most effective learning occurs between the student and the instructor and to follow current COVID protocols.
Live Online Classes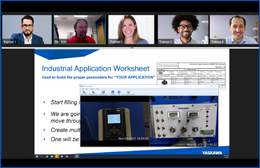 Performed in the Yaskawa virtual training room, live online classes allow students to virtually attend a factory level training class that has traditionally been held in the Yaskawa HQ training facility. No traveling required!
Class size is limited to ensure the most effective learning occurs between the student and the instructor.
Each student will need a laptop with a camera and microphone, an internet connection, and a quiet place to learn.
Drive Classes - We will ship a demo unit directly to each student before the class begins. The demo will require 120V.
Motion Classes - We will connect you into a demo package that is located at our HQ facility in Waukegan, IL.
Visit our Learn with Yaskawa training site today!
Browse all training opportunities at https://training.yaskawa.com.
Have a question?
View our Frequently Asked Questions or email training@yaskawa.com if you experience issues using Learn with Yaskawa, setting up an account, or have feedback.
NOTE: Learn with Yaskawa logins are unique and not affiliated with logins on www.yaskawa.com.

Learn with Yaskawa is supported by the award-winning Thought Industries Learning Management System.
Node: lr1