Electrical Life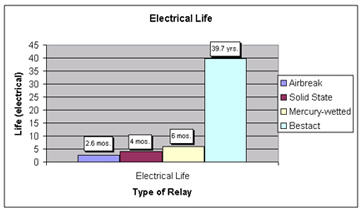 Voltage
Making
Breaking
Electrical Life.(Thousand.Operations)
Current(A)
Power Factor or
Time Constant
Current(A)
Power Factor or
Time Constant
R24U
R25U
R14U
R15U
240VAC
(Inductive Load)
10
5
2.5
PF = 0.7
1
0.5
0.25
PF = 0.4
-
300
600
-
1000
2000
500
1000
2000
800
1500
3000
110VAC
(Inductive Load)
10
5
2.5
PF = 0.7
1
0.5
0.25
PF = 0.4
-
300
600
-
1000
2000
500
1000
2000
800
2000
4000
110VAC
(Resistive Load)
3
2
1
PF = 1.0
3
2
1
PF = 1.0
-
50
300
-
200
500
-
200
1000
200
1000
2000
115VDC
(Inductive Load)
0.5
0.3
L/R = 100ms4
(L/R = 40ms)
0.5
0.3
L/R = 100ms4
(L/R = 40ms)
-
200
-
300
300(1000)
900
300(1000)
900
115VAC
(Inductive Load)
0.02
Relay Coil
0.012
Relay Coil
15000
30000
35000
60000
24VDC
(Inductive Load)
0.037
Relay Coil
0.037
Relay Coil
10000
15000
15000
30000
Value of DC inductive loads tabulated above are the ones where stationary contact side is of positive polarity. However, where used at values more than rated operational current, opposite polarity can extend life. For details, contact Yaskawa at 1-800-YASKAWA (927-5292).
Values in parenthesis are where opposite polarity is implemented.
Where DC light load such as relay is utilized, opposite polarity may reduce the life expectancy.
DC electrical life for R24U and R25U is based on a time constant of 40ms.
Node: lr2