The HV600 HVAC VFD is our latest addition to our long history of quality VFDs controlling HVAC applications and is available in a wide variety of configurations: Stand-alone Drive, Narrow Configured, and Enclosed Configured packages.

Our HV600 with Electronic Bypass is also available as Narrow or Enclosed. The HV600 with Electronic Bypass offers peace of mind on your critical HVAC applications.

In any configuration, the HV600 includes extensive software to simplify the management of HVAC applications and a standard Hand-Off-Auto keypad. Embedded BACnet communications, Metasys®, and APOGEE™ communication protocols make the HV600 the most complete HVAC Drive on the market.

Additional communication protocols: BACnet/IP, EtherNet/IP, LonWorks®, and Modbus TCP/IP are available with an option module.

The awarding-winning Z1000U HVAC Matrix Drive is an industry leader in solving harmonic issues exceeding IEEE 519 requirements at the drive input terminals.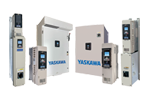 We offer a selection of various building automation networks to help get your drive connected. Find out more about the support we provide and how it can fit your needs.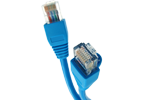 This collection of PC software support tools can be used for uploading and downloading drive parameters, calculating energy savings, or identifying how to reduce your operating costs and meet the harmonics compliance requirements.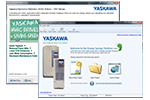 Node: lr1