Features
Supported Applications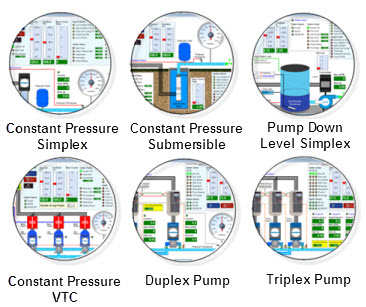 Features
Direct editing of specific iQpump1000 function parameters within the selected application
Real-time up and down application timers for dedicated pump application functions
Auto Mode, OFF and Auto-Restart simulation
Set setpoint and feedback value by slider or numeric entry
Output frequency, motor speed and motor current simulation
Output valve simulation
Multi-function output simulation
Modified parameter overview
System Requirements
Computer with Intel® Core i5 (2GHz or faster) or equivalent AMD Athlon® processor.
Microsoft® Windows® 7 or higher with latest service pack.
2GB or more recommended.
Minimum screen resolution of 1024 x 768 (1280 x 800 recommended).
150 MB of available disk space.
Mouse or other pointing device.
Inkjet or laser printer for printing of reports.
E-mail with Messaging Application Programming Interface (MAPI) to e-mail reports.
Internet Connection to download software updates.
Node: lr2