Beating a Myth in 60 Seconds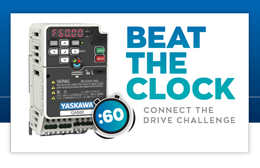 Who thought connecting a Yaskawa variable frequency drive to a Rockwell PLC could be so much fun?
Yaskawa's three-month "Beat the Clock" social media campaign was created to convince customers that making that connection was so easy, it could be done in less than 60 seconds. Participants not only embraced the challenge, but had a lot of fun doing it.
Distributors, manufacturers' reps and end-users alike took on the challenge in different and comical ways. Weightlifters, alter egos, grandchildren --- heck, even baby Yoda -- turned in videos demonstrating how easy it is to "Beat the Clock."
Participants were asked to post video of themselves taking the challenge to their LinkedIn pages, both business and personal. Many of those clips were also posted to a special Yaskawa landing page that also provided sales and training resources. Finally, social media posts kept everyone informed along the way.
The campaign recruited 59 participants, generated over 50 videos, solicited more than 55,000 views on LinkedIn alone, and led to a flurry of sales opportunities -- that we know of.
The idea was to generate excitement over selling Yaskawa drives while engaging distributor reps and their customers. We wanted to give people something to talk about, while also educating folks on the idea that, in addition to the incredible quality and reliability they know our drives to have, we also offer ease of connectivity. I think we proved our point.
"It was great to see people take hold of this challenge and make it their own. The thought put into some of those videos was really something. And, the positive feedback we've gotten to the campaign overall tells us we need to keep pushing the message."
Doug Hall, president and owner of R.L. Matus & Associates in Charlotte, North Carolina, liked the campaign for a couple of reasons.
"It helps customers understand they don't have to accept lesser quality at a higher price. Yaskawa has exceptional quality, reliability and performance backed by free technical support. This campaign helps tell that story," he said. "Plus, it gives distributors something to use virtually. We need to keep doing things like this."
The campaign was a hit because it started with a solid premise, according to Kip Pollay, sales account manager with Dykman Electrical in Boise, Idaho.
"Being able to connect to a PLC is the first priority with a drive. That can seem like a difficult process to some, but with Yaskawa it's not rocket science. That makes this a good narrative. So many people are paying for over-priced systems because they think they have limited choices."
By the way, Kip connected his Yaskawa drive to a Rockwell PLC in 28 seconds – the unofficial record.
If you'd like to learn more about the campaign, go to https://www.yaskawa.com/beattheclock.
Node: lr2