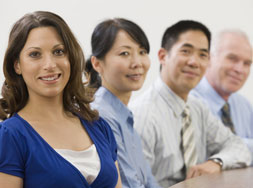 Yaskawa is a financially-healthy company where respect for the employee is a part of the culture. Career opportunities abound offering creative challenges, chances to work with colleagues around the world and the pleasure of helping our customers succeed in the competitive marketplace. You'll enjoy equal opportunities for advancement - as well as chances to make a move from one operating group, location (domestic or international), or project to another
Yaskawa is a dynamic organization that has world class associates in the areas of engineering, manufacturing, R&D, sales, marketing and customer support services. As a global manufacturer of precision control components and systems for automotive, oil and gas, building automation, semiconductor, medical and industrial applications Yaskawa continues to grow in new and current markets served with a sound financial performance. Founded in 1915 in Japan, Yaskawa has grown into a worldwide presence with a tradition of industry leading technical advances with sales of over $3 Billion Dollars (US).
Some key advantages of working at Yaskawa:
Corporate culture of Quality and Customer Satisfaction
Many career opportunities in diverse areas
Global environment with interactions with numerous cultures
Secure, stable company with steady growth
Strong customer base in diverse markets
Leader of innovative technology in electric, hybrid and software development
Our commitment to hiring the best people and keeping them challenged and motivated for long term employment is key to the success of Yaskawa and our customers. Join Yaskawa and make your efforts count!
Node: lr2