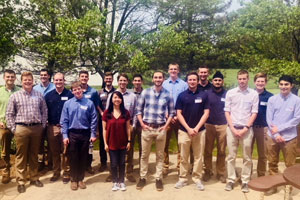 Yaskawa America, Inc. - Drives & Motion Division proudly offers undergraduate engineering students the opportunity to take advantage of our internship and co-op programs. The primary and underlying focus of the program is to give you a real-life look at what engineers do in the world of automation. It also allows you to view many different engineering practices along the way as well. We encourage you to put your education into action and get hands-on training by working on everyday engineering projects. Our overall goal is to provide you with a variety of real and interesting projects to work on, as nothing beats true field experience.
Too many times interns and co-ops at large companies are delegated to working on menial or repetitive projects rather than having their skills tested on complex and thought-process concepts. This is not the case at Yaskawa, however, as we go the extra mile to make sure that the experience is a positive and lasting one. We concentrate on having you work on projects that will have an impact on your future endeavors. We truly believe that an internship or co-op assignment should not only look good on a resume but also provide you with a solid foundation of overall engineering knowledge and confidence. WATCH VIDEO: Internship and Co-op Program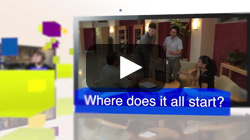 Co-op Program
The co-op program available at Yaskawa is undergraduate engineering students interested in working a semester-length work term. Yaskawa strives to work out a schedule that comfortably fits with your academic schedule. The program gives you the opportunity to work within a wide variety of changing fields:
Servos
Inverters
Machine Controllers
Yaskawa's co-op engineering experience is second to none, as it is both broad and in-depth thereby providing the best all-around opportunities.
Intern Program
The internship program is equally as effective and informative but has a shorter work term. Internship schedules run from late May through mid-August to accommodate your summer break. This allows you to work within one of the engineering departments for a limited time during the summer.
One of the biggest benefits of doing internships and co-ops at Yaskawa is the fact that many of the students have gone on to be hired as full-time employees. Our goal is to continue to hire even more interns and co-ops in the future.
Recruiting Process
As part of the recruiting process, Yaskawa attends student career fairs at various universities. Local students that can't attend these and students from different schools are also invited to apply.
Some of the schools we visit: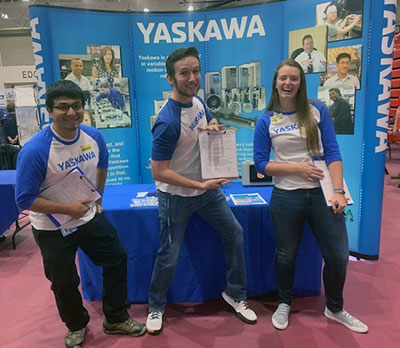 Milwaukee School of Engineering
Missouri Science and Technology
University of Illinois - Champaign
University of Wisconsin - Madison
and more!
Contact your career center for more information!
Interested?
Students are encouraged to stop by Yaskawa's booth at the fairs to:
View working demos of Yaskawa products
Receive information about the internships/co-ops offered
Talk with and ask technical questions one-on-one with an engineer
Introduce yourself while dropping off a resume
Although actual interviews are not conducted at the fairs, we return at a later date to conduct on-campus interviews through the school's career center. We urge you to remain in contact with your career center so that you are aware of these interview dates and can register to be part of the process.
Email your resume to training@yaskawa.com.
Yaskawa is an equal-opportunity employer.
Node: lr1