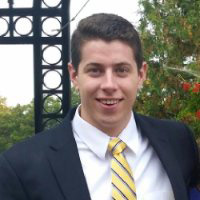 Steve Petershack started with Yaskawa in a mechanical co-op role for the medium voltage (MV) department in May, 2014. At that time, he was given an opportunity to apply his developing engineering skills in real world applications. A year and a half later he graduated from the University of Wisconsin Madison with a Bachelor's in Mechanical Engineering and is currently in the low voltage (LV) sales training program at Yaskawa.

Q: What did you like most about your day-to-day responsibilities in MV?
A: Designing new developments for the MV department allowed me to apply my skills, while piquing my interest through the opportunity to be creative and innovative. The challenges of new and changing expectations in the MV product line are just some of the reasons that my days at Yaskawa in MV were never dull.
Q: What is your biggest accomplishment so far at Yaskawa?
A: Watching my first design, sections of the largest drive that Yaskawa has ever put forth -- being assembled was an extremely rewarding feeling. Being surrounded by supportive co-workers that helped make it happen – the fact we are always working toward the best product that can be put forth – are big reasons I am proud to be a part of the Yaskawa team.
Q: What is the first thing you think when you think "Yaskawa"?
A: The first thing that comes to mind is quality and the people behind that quality, Yaskawa truly stands by its motto, "It's Personal." This is why I believe customers continue to buy Yaskawa products for the first time, or their 100th.
Q: What stands out about the culture to you at Yaskawa?
A: You will always get a smile and a friendly hello from anyone walking in the hallways. That's why my advice to anyone starting at Yaskawa is to branch out and meet as many of the welcoming Yaskawa associates as they can.
Q: What's next for you at Yaskawa?
A: I am excited to say that I am part of a new opportunity within Yaskawa that allows employees to become a part of the outside LV sales team through an internal sales training program. While being one of the first employees to participate in the training program, I hope to help establish a successful platform in which many can follow -- while also furthering my drives knowledge and growing my sales abilities.
If you see me in the hallways, say hello!
Node: lr1