Get Connected with DriveWizard Mobile
Connection Methods and Popular DriveWizard Features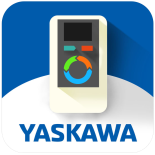 Since the release of the GA800 Industrial drive in 2019 we've made significant improvements to the DriveWizard Mobile application that simplify commissioning and support activities for GA800 and also GA500. Many are seeing the benefits of using the mobile app version of our industry-leading DriveWizard Industrial PC tool.
Did you know that you can program the GA800 and GA500 without main power while still in the original packaging?



Get Connected with BLUETOOTH® for Android®, iPhone®, and iPad®
The GA800/GA500 Bluetooth keypad (Catalog code: JVOP-KPLCD04ABB) is for use with the DriveWizard Mobile application. The Bluetooth keypad allows you to easily connect DriveWizard Mobile to these drives without unwieldy cables or wires. Use the free Yaskawa DriveWizard Mobile application for iPhone, iPad, or Android to manage your Yaskawa AC drive.
The Bluetooth keypad is of particular interest for iPhone or iPad users since an On-The-Go (OTG) cable connection is not supported by iPhone or iPad. If you do not have a laptop or Android device available at the job site, this keypad is your only connection to the DriveWizard Mobile platform.
Get Connected with a USB-OTG Cable for Android Devices
A wired connection is also available for DriveWizard Mobile. Connect to the built-in USB port using a USB On-The-Go (OTG) enabled Android device. This connection allows you to program the drive without the need for main power, right inside the original drive packaging.
USB Connection (for Android Devices) connects the DriveWizard Mobile app on Android smart devices to Yaskawa's newest generation of AC drives.
Part# UWR01516-B (USB Cable, USB Mini-B to USB Micro-B. On-The-Go (OTG) compatible, 2-meter length)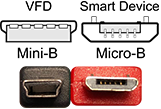 Part# UWR01516-C (USB Cable, USB Mini-B to USB Type-C. On-The-Go (OTG) compatible, 2-meter length)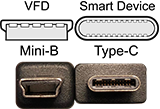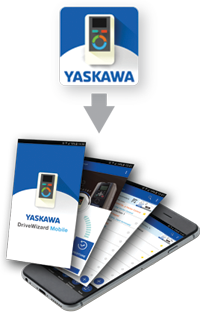 Get the App to Get Connected
Download the DriveWizard Mobile application from the App Store or Google play.
DriveWizard Mobile Functionality Highlights
As an extension of the well-sorted DriveWizard PC Tools platform, the mobile platform supports:
Drive programming without the need for main power (Android only)
Local device storage of parameters – change, back-up, and restore capability
Yaskawa Drive Cloud – protects your installed base when you get a new phone or tablet
Parameter comparator – identify changes from default or last saved settings
Fault code help – identify potential causes and remedies for specific faults
Functional monitor display (e.g., output current) – set favorites to get a concise view (no scrolling)
Trace and save waveforms – enhances off-site peer review capability

Download the latest DriveWizard Mobile - Get Connected Quick Reference (Doc# QRG.DWM.01) to see just how easy it is to use DriveWizard Mobile with GA500 and GA800 series AC drives.

The latest information on anything related to the DriveWizard Mobile platform can be found at https://www.yaskawa.com/dwm.
The Bluetooth® word mark and logos are registered trademarks owned by Bluetooth SIG, Inc.
iPhone and iPad are registered trademarks of Apple Inc.
Apple and Apple logo are trademarks of Apple Inc. registered in the US and other countries.
The App Store is a service mark of Apple Inc. iOS trademarks are used under the license of Cisco USA.
Google Play and the Google Play logo are trademarks of Google LLC.
"Android", "Google Chrome" are registered trademarks of Google Inc.
QR code is a trademark of DENSO WAVE INCORPORATED.
Node: lr1