Back
Yaskawa Steps Up Software, Controller Capabilities
Jan 04, 2018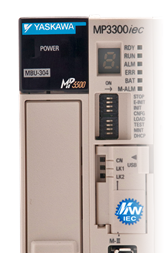 Waukegan, Ill The Drives & Motion Division of Yaskawa America, Inc. announces two new steps forward in machine control, with the introduction of a set of controllers with industry-leading processing speeds and a powerful new version of the company's flagship motion control software.
Users of Yaskawa's MP3300iec machine controller now have the choice of a High-Performance variant with a 1.2GHz processing speed. In addition, the MP3300iec controllers Standard (400 MHz), Medium (800MHz) and High (1.2GHz) Performance CPUs are now available with industry standard RJ45 connectors. This eases networking for customers who utilize standard Ethernet cables and users who prefer to make their own RJ45 cable connections. As always, the MP3300iec controllers are also available with IMI connectors, preferred for their superior performance and reliability.
The new controllers will debut simultaneously with MotionWorks IEC v3.4. This brand new version of Yaskawa's popular motion control software features a number of improvements, including:
Windows 10 support
Expanded hardware support, including the new MP3300iec CPUs, Yaskawa's FT function SERVOPACKS and an upcoming series of Sigma-7 400V SERVOPACKS
Built-in kinematics for custom delta robots (requires –RBT controller hardware option)
Added features that include conveyor tracking, group interrupt and continue mode, velocity overrides and the ability to set adjustable interference zones
Version 3.4 also supports the new OPC Server v2.2, in addition to other adjustments and performance enhancements. The 3.4 update of MotionWorks is the first to cease support for Windows XP.
Node: lr2