Back
Yaskawa to Exhibit at AHR Expo 2020 Booth# 471
Dec 19, 2019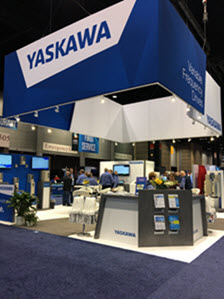 In addition to a complete range of drives for HVAC applications, our booth features the HV600, the newest variable frequency drive designed specifically for HVAC applications. Come visit us in Booth# 471 to see our Z1000U Matrix drive, product demos, education presentations, and get all your questions answered by our factory experts.
Yaskawa Booth Presentations
Just 10 minutes each! Mark your calendar today and visit Yaskawa booth# 471 to learn more! Standing room only.

Monday, February 3, 2020:
11:00 AM: Yaskawa America, Inc.
1:00 PM: HV600 HVAC Drive Features & Benefit
3:00 PM: Fan Arrays
5:00 PM: Z1000U HVAC Matrix Drive Features & Benefits
Tuesday, February 4, 2020:
11:00 AM: HV600 HVAC Bypass Features & Benefits
1:00 PM: HV600 HVAC Drive Features & Benefits
3:00 PM: HV600 BACnet Communications
5:00 PM: DriveWizard Mobile
Be sure to attend for special giveaways during these in-booth presentations!
AHR Presentations
BACnet 101:An Introduction to BACnet
BACnet is a highly used open building automation protocol that continues to grow. This session will teach you about the basic building blocks and design philosophy that have made and continue to make BACnet so popular. Learn how BACnet can help you now and into the future as the Building Internet of Things (B-IoT) continues to grow. View Details
Day/Time: Monday, 2/3/20, 4:00 - 5:00 PM
Location: W311F
Presenter: Edward Tom, Yaskawa Product Manager
ECMs and VFDs: Past, Present, and Future
Electronically commutated motors (ECMs) are getting a lot of notoriety recently. This session includes a bit of history of this decades-old basic technology, how it has changed, and where it might be going. In addition, it will cover some pros and cons of ECMs versus VFDs in HVAC applications. View Details
Day/Time: Tuesday, 2/4/20, 10:55 - 11:15 AM
Location: Theater A – Room W230B
Presenter: Larry Gardner, Yaskawa Product Manager
Visit us February 2 - 3, 2020 at Booth# 471 to see the Latest Technology in Variable Frequency Drives!

Node: lr2