Our Job, Keeping You Up and Running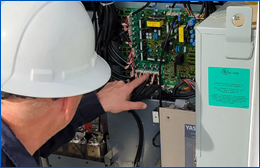 Did you know? Yaskawa's Aftermarket Field Service team provides:
Start-up support
On-site troubleshooting
On-site Drive rebuilds
Retrofits
Preventative Maintenance
Every day. All day. All year.
"Field service is one of the areas Yaskawa definitely works very hard at because we want to do whatever we can to keep our customers up and running," Brad Brannaman, Senior Manager, Field Service, at Yaskawa, said. "I think we do a great job at it because we have such a large installation base, and our distributor network is so broad and capable. It serves as a really good partner. Our distributors are really an extension of us."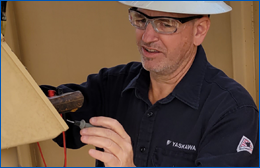 Customers primarily look for Brannaman's team to keep their systems running. That means any time support. Getting answers right away. And finding proactive solutions to prevent expensive downtime and repair costs.
"There's a lot of talk about proactive versus reactive support," Brannaman said. "We help customers get up and operational. Then we help them stay operational. That starts with making sure the user is well-trained. Then, it means we are going to support them with whatever services they need whether that's on the phone, online or in person."
"We are always looking for ways to educate the customer. In addition to our formal training programs, we also look for opportunities to provide basic knowledge and helpful tips on a call or during a visit."
"Yaskawa drives are so robust they can last a long time, especially with the proper maintenance", according to Brannaman.
"We frequently see drives that go two generations back. Our drives can last years and years and years – with proper maintenance. There's opportunity to help customers understand how the right attention can increase the life and performance of a drive," he said.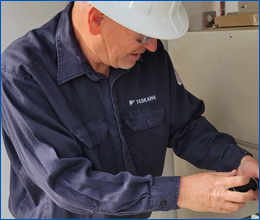 "Sometimes, it's just the simple things. For instance, we recently had a visit for an existing F7 installation. We supported them through cleaning cabinets, replacing fans, the various system checks. Now they have an older drive that works just as good as new."
There are times when older Yaskawa drives require a rebuild.
"We are going to tell a customer when buying a new drive might not make sense," Brannaman said. "So, we will go out and assess what they've got and provide the right solution. That's what we are really about -- providing the best solution for that company."
Yaskawa also provides retrofit services.
"There are lots of times we help customers move from an older version to a current model," Brannaman said. "We will help that customer with the crossover, the installation and getting them up and running. We can do retrofits to accommodate putting our newest generation product in place of our very oldest."
Brannaman said "Yaskawa customers can tackle issues on their own most of the time. But there are times when field service support comes in handy".
"Our field service team has an incredibly high product knowledge, but it also enjoys the benefits of tight customer relationships. We know them. We know what they are trying to accomplish. So, when they call, it is like we are already inside their heads working together to find a solution," he said.
Those relationships and extensive customer application knowledge becomes even more valuable when you consider how far-reaching Yaskawa's user base is, Brannaman said.
"We have customers everywhere," he said. "You're looking at North America and South America. Those customers have locations across the globe. We must be there for them. Between our own team, our distributors and 170 Authorized Service Providers, we are able to do that."
"Recently we had an OEM system deployed in Ecuador looking for immediate support on a system using our GA800 drive. I had to think about how we were going to help him. Well, I was able to connect the user with Variadores, our partner in Columbia. Long story short, we had that customer up and running within a day and a half."
"That's what we do. We find the answers to customer problems no matter what the challenge, no matter where they are."
If you need help or advice on your drives, there are several ways you can engage us:

Call 1-800-YASKAWA. We have technical support people. These are highly technical people that will be able to assess your challenge and deliver the best solution.

E-mail any of the following:
drivesupport@yaskawa.com
technical_support@yaskawa.com
fieldservice@yaskawa.com
repair@yaskawa.com

Visit the technical support page at www.yaskawa.com/support.
Node: lr2