Product News
Product News

New servo motors and amplifiers bring the motion control industry's highest performance to more users.

Created to bring a notable increase in precision and productivity to automated machining equipment.
Featured Items
Featured Items

Solution Center is a self-service knowledge portal providing all the functionality and content needed to resolve issues, immediately, 24/7.

Yaskawa received Omega's prestigious NorthFace ScoreBoard Award for exceeding customer expectations.
Energy Efficiency
Energy Efficiency
Yaskawa Motoman Robotics
Yaskawa Motoman Robotics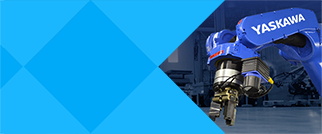 Yaskawa takes industrial automation to new levels through robotics. Our Motoman brand of robotic arms , part positioners and easy-to-program controllers enables you to automate applications that were not thought possible just a short time ago. Visit motoman.com for the latest in industrial robotics.