Product News
Product News

SGD7 Sigma-7 SERVOPACKS were selected as the winner in the "Motion Control - Servo Drives" category.

Provides extremely low harmonic distortion in a space-saving design and on board intelligent pump-specific features and protection.

The Z1000U HVAC Matrix Drive won 2016 Product of the Year from Consulting-Specifying Engineer magazine.
Featured Items
Featured Items

Yaskawa received Omega's prestigious NorthFace ScoreBoard Award for exceeding customer expectations in 2016.

Newly released video introduces the U1000 Industrial MATRIX Drive features and benefits.

Yaskawa's HVAC product families are now available in Autodesk Revit MEP.
Article Library
Article Library
Yaskawa Motoman Robotics
Yaskawa Motoman Robotics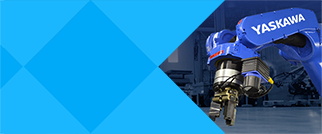 Yaskawa takes industrial automation to new levels through robotics. Our Motoman brand of robotic arms , part positioners and easy-to-program controllers enables you to automate applications that were not thought possible just a short time ago. Visit motoman.com for the latest in industrial robotics.