California's Proposition 65
What is Proposition 65?
California Proposition 65 is a standalone program that affects commercial goods sold in the state of CA. This was enacted in 1986 as "The Safe Drinking Water and Toxic Enforcement Act of 1986". Businesses, including manufacturers, producers, packagers, importers, suppliers and distributors, are required to provide warnings required under the California Code of Regulations (the "Code") if their products or facilities can expose consumers or workers to a listed chemical above identified threshold levels, known to the state of California to cause cancer or reproductive harm. The chemical list contains more than 900 substances, and this list is updated every year.
When does this requirement go into effect?
Though this law has been in place since 1986, a new amendment to the law was passed in 2016 effective August 30th, 2018, changed the warning requirements under the Code. The Code currently requires a warning that is "clear and reasonable" to be placed on applicable products.
What is Yaskawa doing to be compliant?
Yaskawa America, Inc., is committed to provide products that are fully compliant with all regulations, international protocols, and customer standards to which they are subject. All base materials are selected based on industry-accepted codes and standards for product integrity, performance, quality and safety specifications. We are evaluating all products and providing clear and reasonable warnings for products that can expose consumers to a listed chemical known to the state of California to cause cancer or reproductive harm. The California Proposition 65 list is regularly updated, with new chemical added. Yaskawa America, Inc. will take into account this modification and update accordingly the status of the products to meet any requirements of California Proposition 65.
Which Yaskawa products does this affect?
Proposition 65 product information will be provided upon request.
What does the warning look like, and where would I expect to see this warning for Yaskawa Products?
The warning can, depending on the circumstances and the specific products at issue, appear on the product/packaging itself, within the manuals, and/or online websites/documentation. The regulations prescribe the following form of warnings: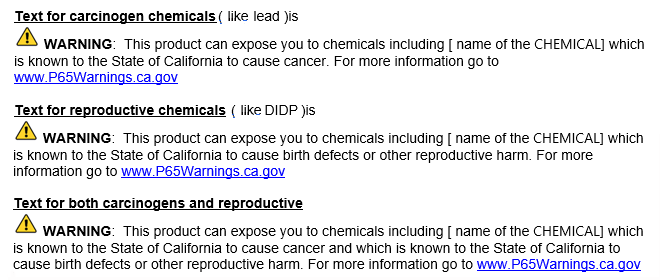 If the warning is provided on the product label (which can be on the product or its packaging as set forth in the Code), then the warning label can be truncated as follows (the "short form"):

If a product is professionally installed, how does Yaskawa provide this type of warning?
For professionally installed products, the warning will generally appear in the manuals for those products.
Are these warnings also on the eCommerce sites of Yaskawa, or on those of distributors and resellers who sell Yaskawa products?
Yes. There is a requirement of including a warning on e-commerce sites which sell products containing the listed chemicals under the Code. We as the manufacturer have a responsibility to let the distributor/reseller know that the product contains one of the chemicals and provide them with appropriate labels. We will work with our own eCommerce team to provide this information through the standard data delivery systems.
What is a Reseller's/Distributor's role in selling Yaskawa Products?
The reseller/distributor are obligated to provide appropriate warning compliant with the Code prior to purchase.
If we have general questions about Proposition 65 or how it relates to Yaskawa products, who do we contact for support?
Visit https://www.p65warnings.ca.gov/ to read more on Proposition 65.
Email our Technical Support team or contact them by phone at 1-800-YASKAWA (927-5292), dial 2.
Node: lr2