Back
Yaskawa Honored with NFSB Triple Crown Award for Exceptional Service
Mar 15, 2023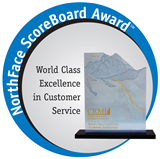 The Drives & Motion Division of Yaskawa America, Inc. is excited to announce that we earned the 2022 Customer Relationship Management Institute LLC (CRMI) NorthFace ScoreBoard Triple Crown AwardSM (NFSB) for achieving excellence in:
Customer service (NFSB Service Award - Summit Status) – 11 year recipient
Employee soft skills (NFSB CEMPRO Award) – 4 year recipient
Employee centric work environment (NFSB Voice of Employee Award) – 2 year recipient
The NFSB Service Award for superior customer service is presented annually to companies who, as rated solely by their own customers, achieved excellence during the calendar year. Its Summit-class is for organizations who have minimally been NFSB Service recipient for 7 consecutive years – Implemented formal CXDNA Playbook Strategy – Implemented annual Employee Engagement soft skills training. Yaskawa is committed to continuous learning and education of our teams to enable them to deliver outstanding service and a work environment where they can do their best work.
Organizations who annually earn all three NFSB Awards receive NFSB Triple Crown status for continuously exceeding customer expectations.
Node: lr2