GA800 AC Drive Quick Setup Procedure and ON-SITE Videos for TOEPC71061748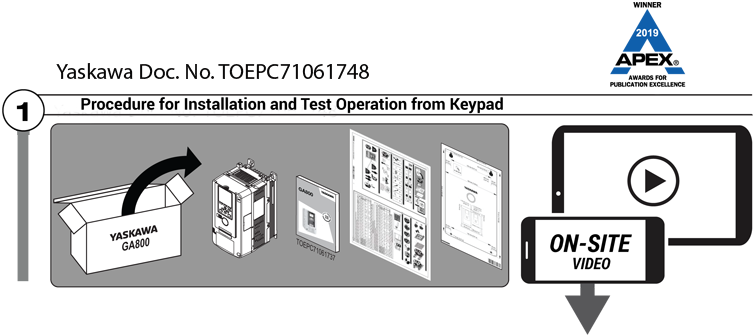 The step numbers in the table correspond to step numbers in Yaskawa document TOEPC71061748*. This document is packaged with GA800 AC Drive models GA80U2004-2211 and GA80U4002-4168.
*Drives Technical Communications was awarded a 2019 APEX Award in the How-To Writing category for their design work on new quick setup procedures for Yaskawa's latest generation of AC drives.
Playlist
Procedure Step and Video Title
Description
Yaskawa ON-SITE (GA800 Quick Setup 1)
Playlist supports specific procedures contained within the GA800 Quick Setup Procedure (No. TOEPC71061748).
GA800 STEP 6: Panel Mount the Drive

How to mount a GA800 drive to a panel.

GA800 STEPS 7-13: Wire and Energize

How to wire line power and a motor to the GA800 drive.

GA800 STEP 14: Set LOCAL/Jog Motor

How to spin/jog a motor using the keypad on the GA800
drive.

GA800 STEP C: Run Motor at Desired Speed from Keypad

How to run the motor from the keypad at a desired speed.

Yaskawa ON-SITE (GA800 How-to...)
Additional playlist for all GA800 How-to videos that show how to maintain, program, adjust and use the many features of Yaskawa's GA800 AC Drive.
GA800: Set the Date & Time on the Drive

How to set the date and time on the GA800 drive's keypad.

GA800: How to View Modified Parameters

How to view the Modified Parameters on a GA800 drive.

Questions or comments?
Phone
If you have an urgent request, please call 1-800-YASKAWA (927-5292) or 1-847-887-7457.
Electronically
To contact us electronically, send email to: technical_documentation@yaskawa.com
Mail
Yaskawa America, Inc. - Drives & Motion Division
2121 Norman Drive South
Waukegan, IL 60085
Node: lr1