GA500 Drive Quick Setup Procedure and ON-SITE Videos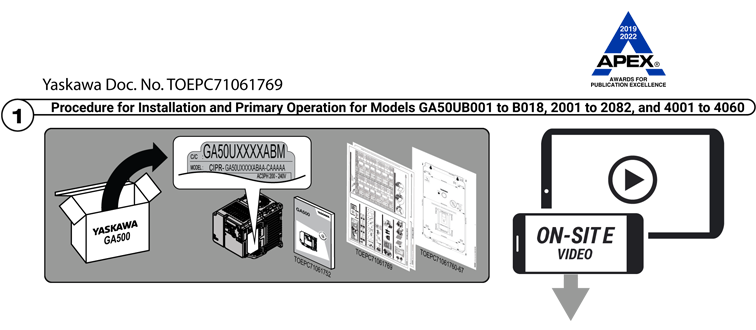 The step numbers in the table correspond to step numbers in Yaskawa document TOEPC71061769.
Playlist
Step/Description/Video Title
GA500 Quick Setup Procedure Playlist
Playlist supports specific procedures contained within the GA500 Quick Setup Procedure (No. TOEPC71061769)
STEP 5: Panel Mount the GA500 Drive
How to mount the drive to a panel.
(No. VP.GA500.05)
STEPS 6-13: Wire the GA500 Drive
How to wire main power and a motor to the drive.
(No. VP.GA500.06)
STEPS 10-12: Auto-Tune the GA500 Drive
This video shows how to correctly Auto-Tune the drive to the motor.
(No. VP.GA500.07)
STEP 13: Run Motor at Desired Speed from the GA500 Keypad
How to run the motor from the keypad at a desired speed.
(No. VP.GA500.08)
GA500 How-To Playlist
Additional playlist for all GA500 How-to videos that show how to maintain, program, adjust, and use the many features of the GA500 AC Drive.
GA500: How to View Modified Parameters
How to view the Modified Parameters on the drive keypad.
(No. VP.GA500.02)
Check back for more!
Questions or comments?
Phone
If you have an urgent request, please call 1-800-YASKAWA (927-5292) or 1-847-887-7457.
Electronically
To contact us electronically, send email to: technical_documentation@yaskawa.com
Mail
Yaskawa America, Inc. - Drives & Motion Division
2121 Norman Drive South
Waukegan, IL 60085
Node: lr1